Shri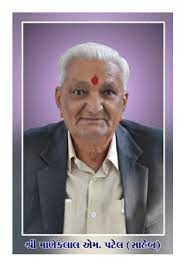 Maneklal Patel was born on 1st February, 1929 in village Untawa near Kadi in Mehsana district. He graduated in Arts and acquired degree of L.L.B. He also passed examination of Bar council and got the license to be lawyer. Even though, he was capable of being good lawyer, he chose to be Chief Officer of Kadi Municipality in 1958. During the span of 14 years and 10 months, he took lot of courageous and corrective steps to develop Kadi as a town. He was also one of the pioneering members to revive General Hospital at Kadi. He worked as a President of a charitable trust of the hospital and equipped it with lot of modern medical facilities. To promote oil and cotton ginning business around Kadi, he did lot of efforts to establish Kadi Nagarik Sahakari Bank with the purpose of lending loan to small scale industry around Kadi. He also served as a President of Kadi Oil Mill Owner's Association and successfully presented their issues to the Government for the benefit of oil mill owners and workers. Apart from this, he worked as President of Kadva Patidar Kelvani Uttejak Mandal and trustee of Gujarat Gaushala at Kadi.
Shri M. M. Patel was vigorously engaged in the field of education. He worked as a Chairman of Sarva Vidyalaya Kelvani Mandal for four decades. During his span, he started and nurtured many school and colleges with right pursuit of modern education. Due to his endless efforts, presently, SVKM consists of more than 65000 students studying in 65 different disciplines from KG to PhD in one campus at Kadi and two campuses situated at Gandhinagar. As a result of his modest efforts and continuous engagement, Kadi Sarva Vishwvidyalay achieved the status of University in the year 2008 under the University Act of state government of Gujarat. Considering his valuable contribution to education and philanthropic philosophy, he was invited by the State Government of Gujarat as a member of fee regulatory committee to represent various management institutes of Gujarat.
As a true educationalist, he firmly believed that no one should face problem of getting education due to monetary constraints. Every year, he forgo hefty amount in terms of fee relaxation for the economically poor students. Apart from this, he has also created Student Welfare Fund for assisting economically poor students. He had always raised the voice in vested interest of students and education fraternity.
He proved himself as bright student, carrying family member, successful businessman, true educator, modest philantropher throughout his life. He will be always remembered as the source of inspiration for philanthropic principles across the state of Gujarat.